The Kentucky Law Enforcement Memorial Foundation annual memorial service usually held in Mid-May will be postponed until further notice. It is fully intended that a service will be held in 2020, however, a rescheduled date has not been determined at this time. For any questions please feel free to call the office @ 859-622-8081.
In addition to maintaining the only statewide monument listing the names of every known fallen law enforcement officer in Kentucky's history, the Kentucky Law Enforcement Memorial Foundation provides relief in personal family tragedies and scholarship funds for the commonwealth's law enforcement officers and their families.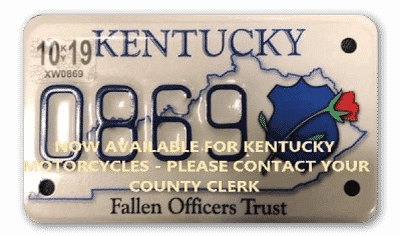 NOW AVAILABLE!
Motorcycle License Plates
KLEMF Motorcycle License plates are available, contact your county clerk's office!